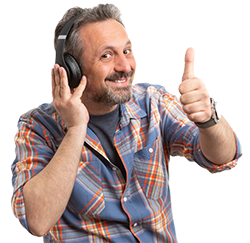 "Radio advertising has been instrumental in our growth," says Kristin Smith the controller for Hatfield, Pennsylvania based World Wide Stereo. The iconic Delaware Valley retailer has been selling every imaginable type of home electronics from car stereos to home theatres since 1979.
"Many competitors have come and gone during our 40 years," adds Emily Cole, the company's Director of Marketing. She and Ms. Smith rattle off a long list of names including Tweeter, Silo, HiFi House, Circuit City, and Sixth Avenue.
"Radio has been the one advertising medium we have been using consistently all this time," says Ms. Smith.
Radio is hard-baked into the DNA of World Wide Stereo. The company's founder and CEO, Bob Cole, first became hooked on electronics as a kid growing up in the 1950s. He remembers building his own radio with some copper wire and the wooden-spool from some sewing thread.