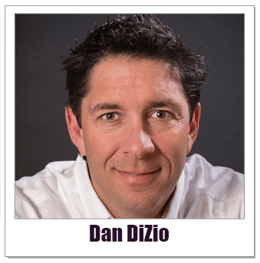 "I wish I had known about radio advertising when we opened up our first store in 1998," says the Dan DiZio the co-founder and CEO of Philly Pretzel Factory. "It would have allowed us to grow even faster than we did."
With permission of his Mom, an 11-year old Mr. DiZio began selling pretzels on the treacherous intersection of Roosevelt Boulevard and Rhawn Street in Northeast Philadelphia. His inventory was remnants from his neighbor, who owned the Kensington Soft Pretzel bakery.
"On the first day I sold 1000 pretzels", recalls Mr. Dizio. "After splitting the profits with my neighbor, I had $100 left in my pocket. A lot of money for an 11-year-old."
Shortly after that, Mr. DiZio began recruiting 40-50 classmates a day to hawk even more pretzels on street corners all over the neighborhood. This early taste of franchising kept his pockets very full through middle school, high school, and into college.
This was the origin of what, today, is a $50,000,000 a year business with 175 stores in 17 states. Eighty-five of those locations are within 40 miles of Center City Philadelphia. Mr. DiZio has gone from selling 1000 pretzels per day to 175,000,000 per year.
The very first Philly Pretzel Factory Store was opened in 1998 by Mr. DiZio and his college roommate, Dan Lehman. The pair's initial funding came from ten maxed-out credit cards.
"On our very first day, there was a long line when we opened at 9:00am. By 5:00pm we had sold every pretzel we had," says Mr. DiZio. "Customers would then come back day-after-day. We were the only place in Philly where someone could buy blazing hot pretzels right from the bakery."
The demand was so great, for the company's pretzels, the partners took to working 21 hour days. The little sleep they did get was on flour sacks in the back of the bakery.
Beginning in September of 1999, Mr. DiZio started taking on new partners to open additional stores at the rate of one or two per year. By 2005, with the help of a former executive from Rita's Water Ice, another iconic Philadelphia brand, Philly Pretzel Factory became a full-fledged franchising company.
Throughout the early years, Mr. DiZio says the company had a limited view of marketing. "Our strategy, if you could call it that, was every time we opened up a new store we would give away free pretzels. The product was so good, we would create instant repeat customers."
That all changed at an Atlantic City poker table in 2006.
"I was sitting next to a guy who lived, literally, 300 yards from our Mayfair store," says Mr. DiZio. Even though we had been selling thousands of pretzels out of that store for eight years, the guy never heard of us. That's when I realized, we were only scratching the surface of our potential. I knew then we needed to advertise. Not only to bring in new customers, but also to remind previous customers to come back."
Philly Pretzel Factory's first advertising was in the newspaper. An effort Mr. DiZio says was "moderately successful."
In 2008, though, the company switched to advertising on Philadelphia radio stations. "Right away, customers began to say they heard our commercials," he recalls. "No one ever said that about our newspaper ads. We also saw a spike in sales."
What surprised Mr. DiZio most about radio advertising was the effect it had on the company's franchisees.
"Our owners never saw any value in our newspaper ads. But, they quickly saw validation from their customers from the radio. For the first time, our franchisees really felt part of a major brand."
Radio DJs Influence With Listeners Is Outsized
Mr. DiZio credits his early advertising success on Philadelphia radio with the use of DJ endorsements.
"I knew from my personal experience," he says, "that when my favorite DJ talked-up a product, I felt like he was talking directly to me. That's the feeling I wanted to capture in our advertising as well. And, it worked. The influence radio personalities have with their audience is outsized."
Philly Pretzel Factory has extended its use of radio beyond commercials and has discovered a way to integrate the company into the fabric of partner radio stations.
"For instance," says Mr. DiZio, "last January everybody in Philadelphia was buzzing about the Eagles winning the 'double-doink' game against the Chicago Bears. That game was on a Sunday. In our staff meeting on Wednesday, we decided we wanted to somehow capitalize on that buzz."
"So, while in that meeting, we texted one of our partner radio stations and asked them to help us build a promotion. Thirty-six hours later we were conducting an on-air, 'double-doink' field goal kicking contest in front of the Eagle's stadium."
Radio Advertising Creates Extraordinary Value
According to Mr. DiZio, the extraordinary value from this quickly orchestrated radio promotion was the amplification created when every Philadelphia TV station showed up to cover the event as well.
"We were able to leverage the purchase of radio commercials into a multi-media frenzy," he says. "Radio is the only medium that could have helped us pull this off."
Philly Pretzel Factory encourages its franchisees outside of the Delaware Valley to invest in radio advertising as well.
"In Pittsburgh, several of our franchisees co-mingled their marketing dollars to invest in radio advertising. As a result, they saw a huge spike in sales," says Mr. DiZio.
"We received similar feedback from an owner in the Lehigh Valley. He has been with us for seven years. His business had been good, but flat. After investing in a four-week campaign on local radio stations, he saw an enormous lift in sales. The only thing he did differently during that time was run radio commercials."
Based on this type of success advertising on radio advertising occupies a large part of Philly Pretzel Factory's marketing budget.
"We spend 30% of our marketing dollars on public relations. Another 10% is put into in-store promotions. The remaining 60% is invested in Philadelphia radio stations in the form of commercials, promotions. social media, and online support," says Mr. DiZio.
"Radio advertising for us is a no-brainer," he concludes.
More Advertising Advice For Delaware Valley Small Business Owners