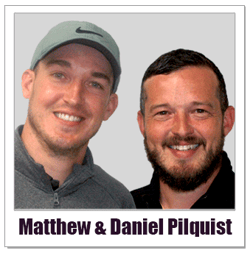 "Our main goal has always been to grow every year just like we were a brand new business," says Daniel Pilquist, Vice President of Operations for Pilquist Enterprises, Inc. "Aggressive advertising helps us make that happen."
Pilquist Enterprises owns and operates 12 NaturaLawn franchises throughout the Delaware Valley. The business was founded by Daniel's father, Dean, in 1991. "My Dad started with one truck and one service rep out of a small location in Doylestown," he says. "We are now the largest franchisee in America.
NaturaLawn provides Philadelphia area homeowners with weed-free green lawns using an environmentally friendly approach. "We offer a proprietary, organic-based fertilizer that focuses on secondary and micronutrients as well as bio-stimulants to transform the home's soil ability to produce green grass," says Daniel.
The business, which started with franchises in Bucks and Montgomery County, quickly grew to eight fueled by telemarketing, direct mail, and customer referrals.
By 2008, the Pilquist's NaturaLawn franchises were serving 3500 customers per year. To achieve greater growth, the company began investing in advertising on Philadelphia radio stations.
"Radio is known primarily as a branding medium," says Daniels brother Matthew who is the company's Marketing Director. "But, our objective was to use it for direct response."
To fulfill that purpose, the PIlquist's utilized endorsement advertising by providing lawn care services to local DJs. "These radio personalities could then speak passionately about their first-hand experience and results using NaturaLawn," says Matthew.
The Phone Started Ringing Off The Hook
"We started seeing results almost right away," says Daniel. "The phone would start ringing off the hook every time the DJ would do a live announcement. After a year, our radio advertising began to more than pay for itself."
"Radio and direct mail continue to be the workhorses of our annual marketing plan," he says. The company currently uses six local radio personalities to endorse their services across a mix of Philadelphia talk and music stations.
Part of the reason radio works so well for NaturaLawn is the ability to reach the company's core consumers. "The majority of our customers are homeowners who have post-graduate degrees and an annual household income of $100,000 plus," says Daniel.
Last week, according to Nielsen, Philadelphia radio reached 94.5% of NaturaLawn's target customers. This is significantly more than were reached by local TV stations, newspapers, social media, or audio streaming sites.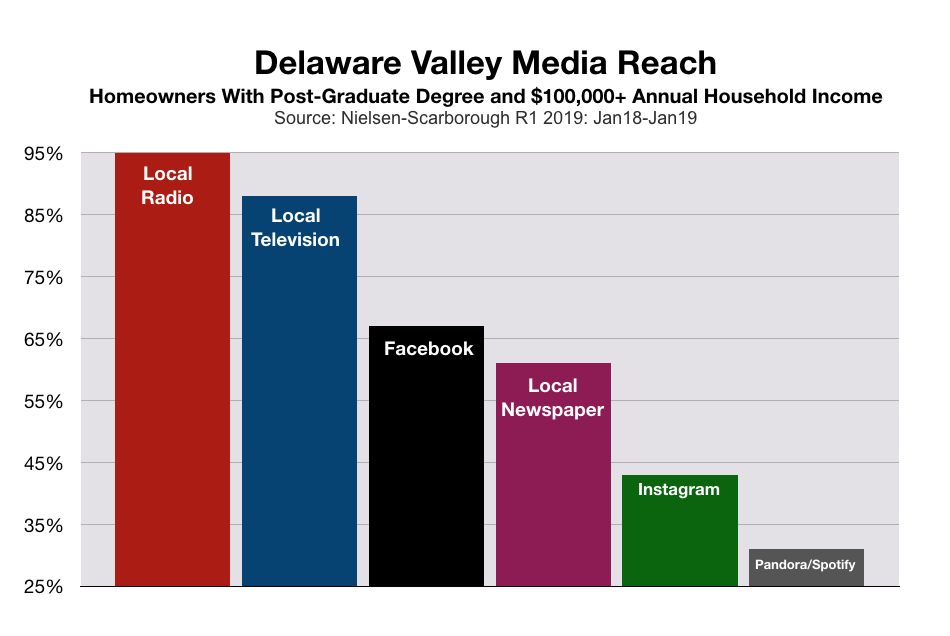 "Our Dad taught us the importance of analyzing every dollar we spend," says Daniel. "So we track very carefully how much it costs to acquire every new customer."
"We know, for instance," says Matthew, "that last year our return-on-investment from our radio advertising was 190%. We carefully analyze how each station we use contributes to that. When a particular station does not deliver the ROI we need, it gets cut."
Although the Pilquists primarily use Philadelphia radio as a direct response medium, they do see ancillary benefits as well.
"It really helps from a branding perspective," says Daniel, "that when our direct mail shows up in a mailbox, the homeowner is already familiar with our name. Same thing with a Google search. People are more likely to click on us if they are familiar with us. Radio helps us do that."
Daniel believes other small business owners can achieve similar growth through advertising. "To make it work," he says, "a company needs to budget carefully, tweak where necessary, and don't lose sight of the measurables."
More Great Advertising Advice For Delaware Valley Business Owners