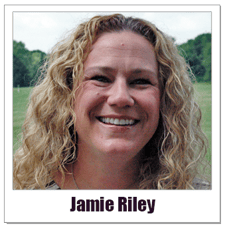 "Don't believe anyone who tells you that advertising on radio doesn't work," says Jamie Riley. "We have been doing it since 2007 when I joined the company, and we continue to see our key business measurements grow."
Ms. Riley is the Director of Marketing and Promotions of Ron Jaworski Golf.
"Before I started working for Ron Jaworski, the Yellow Pages and newspapers were the only advertising the company was doing," she says. "When I suggested we do a remote radio broadcast at one of our golf clubs to bring in new people, everyone thought I was crazy."
"I guess it was a success because I wasn't fired, and we've continued to advertise on the radio, ever since."
Ron Jaworski, an avid golfer, founded the company in 1982 while he was still quarterbacking for the Philadelphia Eagles football team. That was the year he purchased his first golf course in Sewell, New Jersey. He named the club, appropriately, Ron Jaworski's Eagles' Nest.
By the mid-1990s, Mr. Jaworski had expanded the company to include a half dozen golf courses. In 1998, however, he sold the company to a group of Wall Street investors.
In 2000, though, Mr. Jaworski returned to the business of golf when he purchased the Valleybrook Country Club in Blackwood, NJ. Today, his company now operates a total of seven courses throughout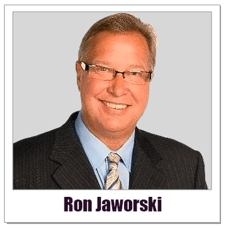 Pennsylvania and New Jersey.
Ms. Riley is responsible for marketing all of the different aspects of the company's business. This includes membership, weddings, company outings, plus food and beverage.
"We rely on digital advertising and social media to promote the individual courses," she says. "But, we rely on TV and especially Philadelphia radio to promote the Ron Jaworski Golf brand."
"From April through November, our focus is all about bringing in new golfers," says Ms. Riley.
According to Nielsen, there are 504,095 golfers in the Delaware Valley. Every week, Philadelphia radio reaches 95.6% of everyone who plays. This is significantly more golfers than watch local TV, read a newspaper, visit a social media platform like Facebook and Instagram, or stream audio from Pandora and Spotify.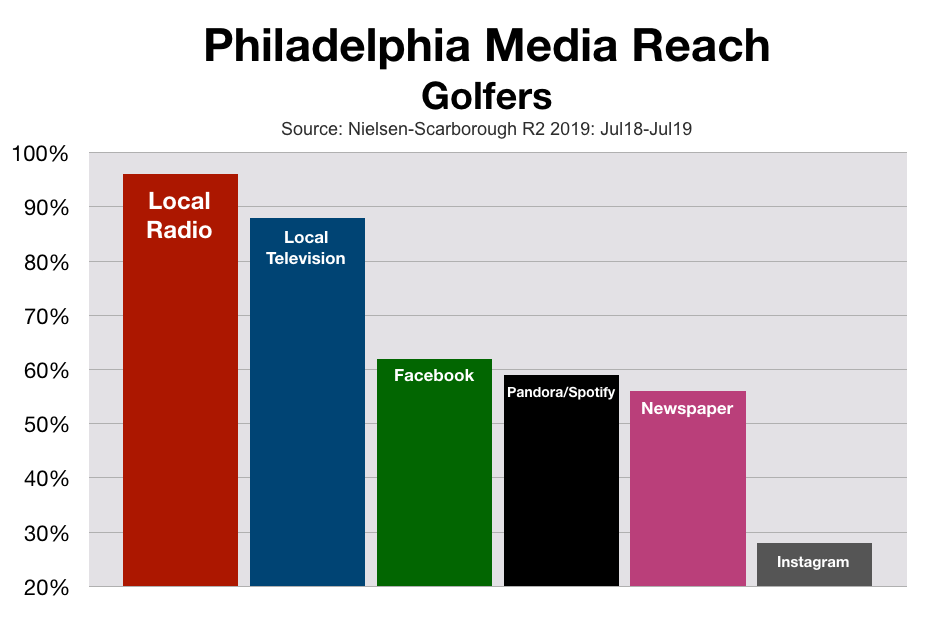 "We use radio in a number of different ways to promote our golf courses," says Ms. Riley, "This includes a combination of :30-second commercials, DJ endorsements, and live remotes with Ron every Wednesday during football season."
"November through April is wedding planning season," she says. "That's when our focus changes, and so do our radio commercials.
Each year in the Delaware Valley, according to Nielsen, more than 146,000 people get married. Every week, Philadelphia reaches 93.8% of those brides-and-grooms-to-be. Once again, this is more than are reached by all other local media options.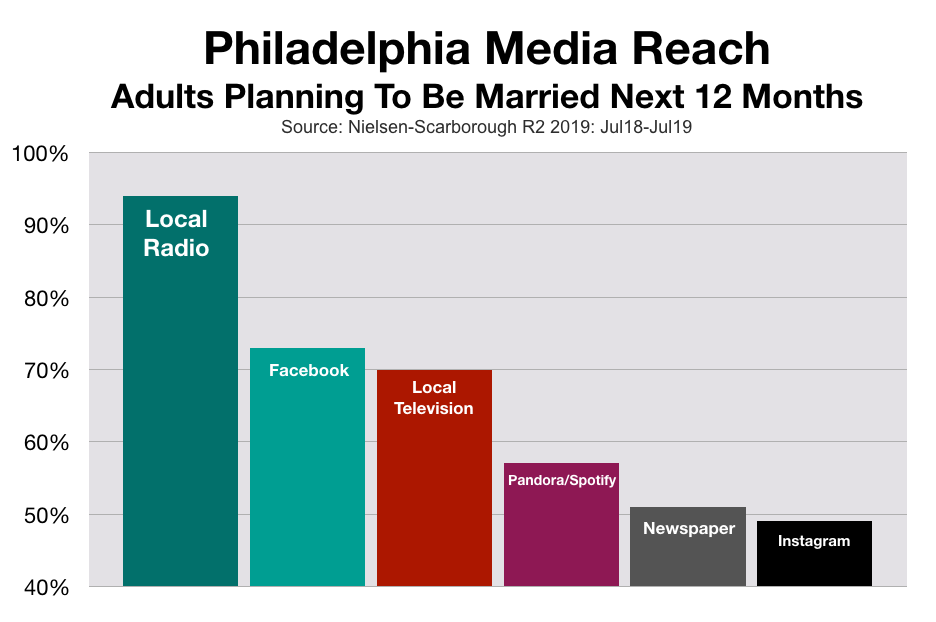 Just like with golf, Ron Jaworski weddings are promoted on radio with a combination of :30-second commercial and liver personality endorsements.
"Advertising and branding have had a positive effect on these two important parts of our business," says Ms. Riley. "Every year, we book more weddings and we attract more golfers."
"We know, specifically, that advertising on Philadelphia radio plays a part because new people tell us all the time that they heard about Ron Jaworski Golf and Ron Jaworski Weddings on the radio."
To illustrate the power of radio advertising, Ms. Riley recalls an event that happened a few years ago.
"An hour before a live broadcast from one of our country clubs, Ron was on the air with a local Philadelphia station to promote the event. He casually mentioned that NFL superstar Joe Flacco would be joining him in person for a quick segment. He only said that one time."
"Within a few minutes, the bar at the country club filled-up with football fans who came because they heard Ron talk about it just one time on the radio."
More Advice For Delaware Valley Small Business Owners