"I credit a ton of our restaurant's success to the advertising we do on Philadelphia radio," says Bonnie-Lynn Schneider. "Without it, I would have no other way to reach new customers from such a wide area."
Over the next 12 months, consumers in the Delaware Valley will spend $11.4 billion in local restaurants and drinking establishment. Dining out accounts for almost 10% of the area's retail economy. Ms. Schneider grabs more than her fair share of those dollars even though her restaurant is in the middle of nowhere.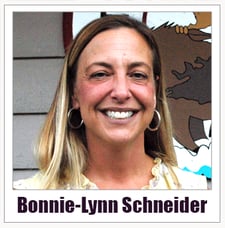 Since 1927, Ms. Schneider and her family have owned and operated the Pic-A-Lilli Inn on Route 206 in Shamong, New Jersey. That's about a 51-minute drive from Center City, Philadelphia.
The Pic-A-Lilli began life as Snyder's Luncheonette and was owned by Ms. Schneider great-grandfather. When Mr. Snyder passed away ten years later, his daughter Lillian and her husband Pickett Russell, Senior took over the restaurant.
The two new owners decided to combine their first names to create the new moniker, Pic-A-Lilli.
Ms. Schneider joined the family business full-time in 1987 after graduation from Stockton University with a degree in business and marketing. She became the fifth generation of Snyder's to help run the Pic-A-Lilli Inn.
"When I started," she recounts, "the Pic-A-Lilli was a country bar with a lot of Garth Brooks on the jukebox. We had five employees. Our customers were an eclectic mix of campers, hikers, hunters, and bikers who came to enjoy our now famous Buffalo wings and crab soup."
"I was convinced we could grow. All we would need to do is get people to jump off the highway and come-in just one time. Once they experienced my family's hospitality and our great food, I knew they would come back again and again."
Ms. Schneider realized to expand, she would need to cast a wide net because, as she says, "literally, no one lives close by." Advertising was her only option.
"I first thought about newspapers," she says, "but because of where we are located I would have to buy too many to reach a big audience. Also, by then, newspaper readership started to drop."
So, in 2004 the Pic-a-Lilli began advertising on a single Philadelphia radio station.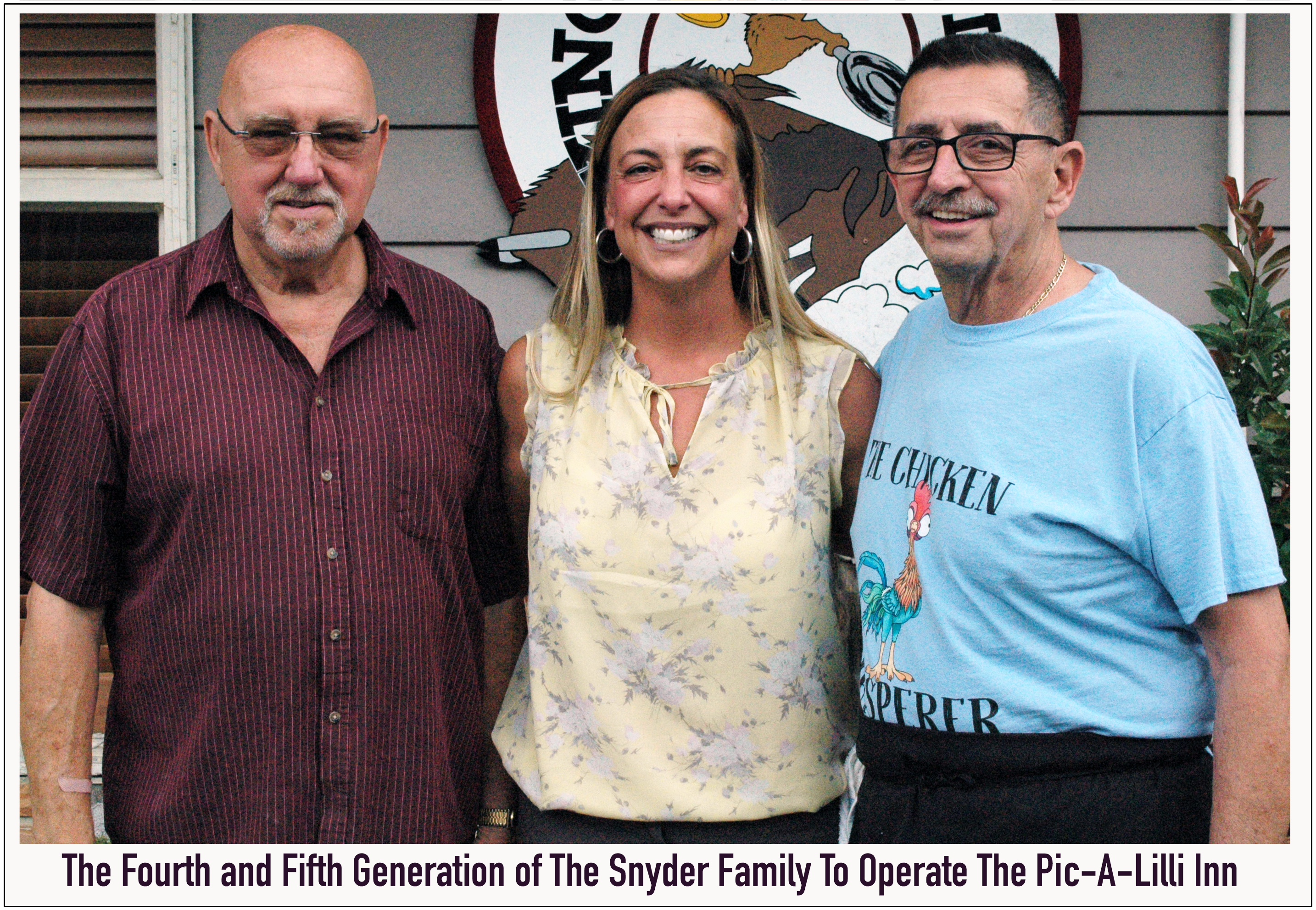 "We didn't have a lot in the marketing budget back then," says Ms. Schneider, "so we bought a lot of commercials at nighttime and on weekends."
In 2004, just like now, radio advertising was the best option for restaurant owners to reach potential customers.
Last week, for instance, Philadelphia radio reached 93.1% of all adults who visit a sit-down restaurant in the Delaware Valley at least once per month. This translates to 3.6 million hungry consumers.
The number of restaurant customers reached by Philadelphia radio is significantly higher than the number reached by local TV, local newspapers, or streaming audio sites like Pandora and Spotify.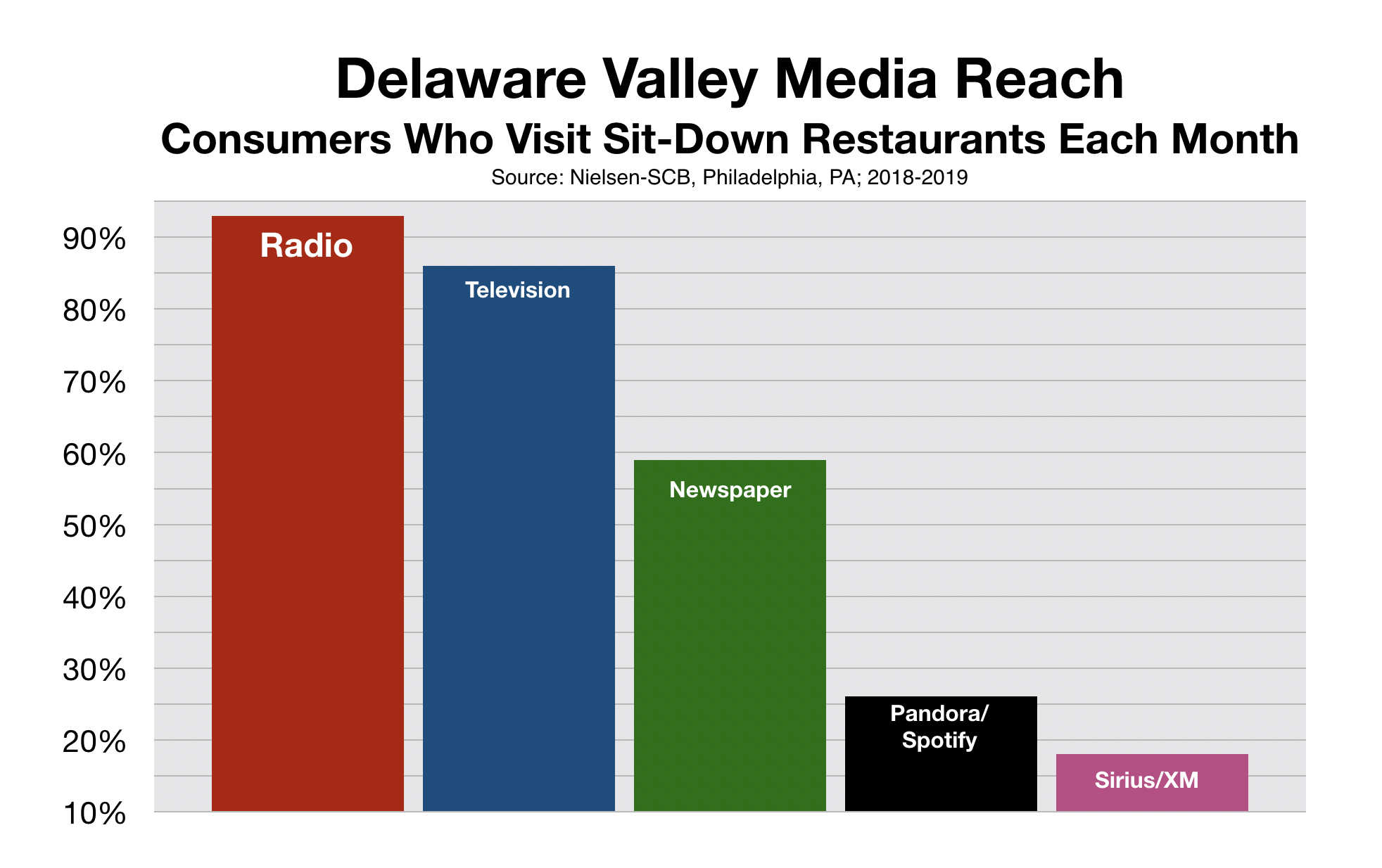 Philadelphia radio listeners are the most valuable consumers for Delaware Valley restaurant owners to reach, because of all media, radio listeners dine-out most frequently.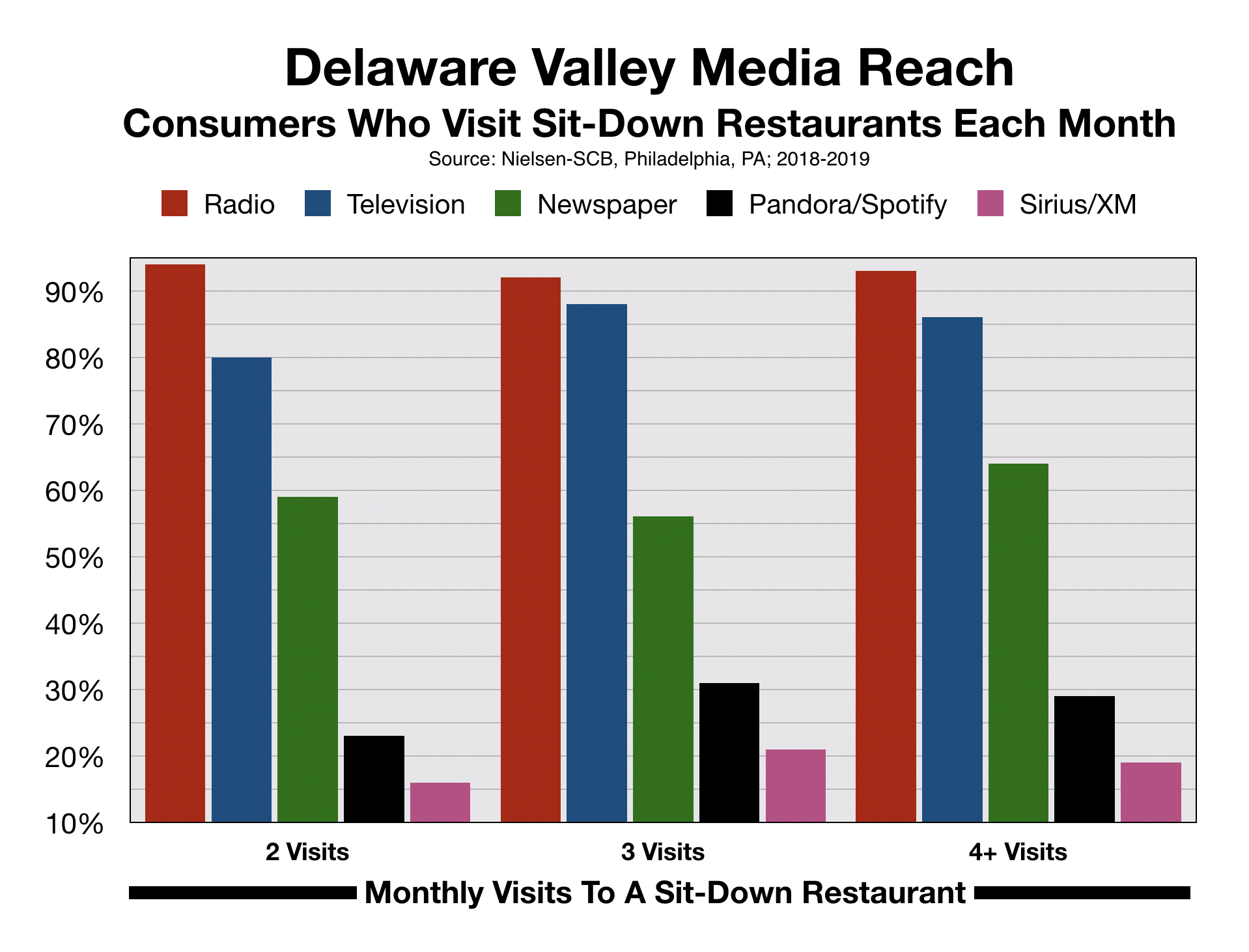 "It took a while for us to notice the results of our radio advertising," says Ms. Schneider. "But business soon started to pick-up. I talk to people all the time who travel a long way to eat here. Just the other day, a customer came in from Bucks County. I asked her why she drove by hundreds of other restaurants to come to Pic-A-Lilli. She told me, like a lot of other people, I heard you on the radio."
As Ms. Schneider's advertising continued to help the restaurant to grow, she added commercials on additional radio stations. This includes a station that serves the New Jersey shore.
Currently, Pic-A-Lilli's advertising can be heard year-round on six to seven radio stations.
Over Super Bowl weekend this year, Pic-A-Lilli sold close to 50,000 chicken wings. "I can say, without a doubt," says Ms. Schneider, "it was radio advertising that helped us achieve that huge amount of sales."
"It is still amazing to me the success we've had. Every pizza place and every bar in the Delaware Valley sells what we do. But still, people go out of their way to buy from us. It's clearly because of our advertising."
Ms. Schneider says she would be hard-pressed to stop advertising Pic-A-Lilli on Philadelphia radio. "If we did," she explains, "another restaurant would take our place. I know we would lose customers. They would find other places to eat. Places much closer to where they live."