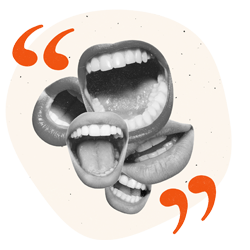 Me: Alexa, how many consumers in Philadelphia have access to a smart speaker?
Alexa: According to a recent Nielsen study, 1,334,636 Delaware Valley area adults own a smart speaker. This is 31.1% of the local population.*
Me: Alexa, what exactly is a smart speaker?
Alexa: According to Wikipedia, A smart speaker is a type of loudspeaker and voice command device with an integrated virtual assistant that offers interactive actions and hands-free activation with the help of one "hot word" (or several "hot words"). Some smart speakers can also act as a smart device that utilizes Wi-Fi, Bluetooth and other protocol standards to extend usage beyond audio playback, such as to control home automation devices. This can include, but is not limited to, features such as compatibility across a number of services and platforms, peer-to-peer connection through mesh networking, virtual assistants, and others. Each can have its own designated interface and features in-house, usually launched or controlled via application or home automation software. Some smart speakers also include a screen to show the user a visual response.
Me: Alexa, what brand of smart speakers are Philadelphia consumers likely to own?